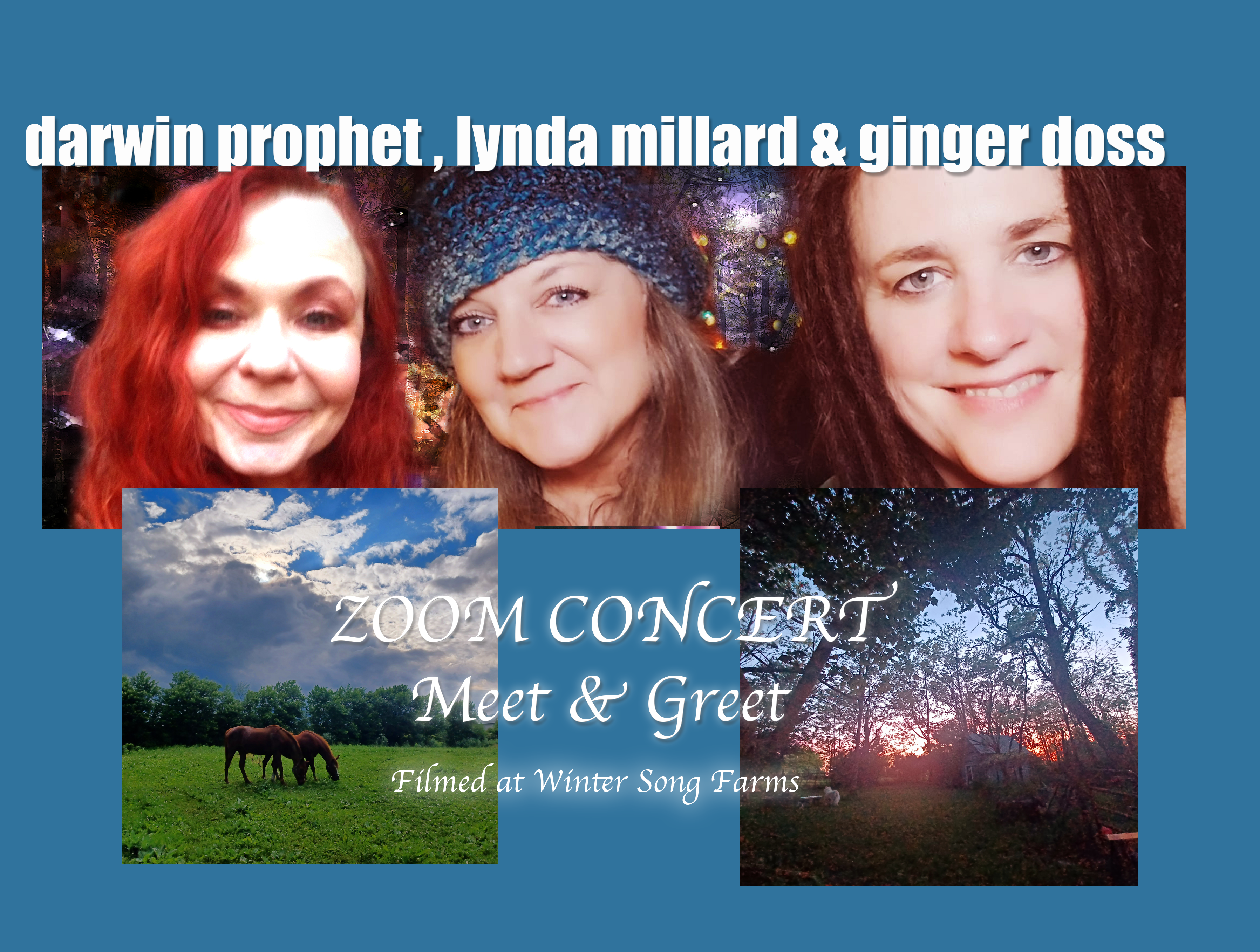 Dawin Prophet, Lynda Millard & Ginger Doss
ZOOM CONCERT and MEET & GREET 
Velvet Hammer Reunion Pre Show! 
Friday July 8th - 7pm Central time 
(8pm eastern, 6pm Mountain, 5pm Pacific)
Sliding Scale tickets from $10-30 
This show will be offered on the Zoom platform. 
You must have the zoom app to attend. 
After purchasing tickets, a zoom meeting ID and Passcode will be sent to you via email.  Please be sure your email is provided or email ginger@gingerdoss.com for show code. Be aware that buying tickets at or right before show time may cause delays in accessing the show. 
We will do our best to get everyone their show code info asap. THANK YOU! 
Purchase tickets by July 8th at 3pm to be sure to get your code in time for the start of the show! 
Ginger, Darwin & Lynda are getting together for a Velvet Hammer REUNION at Starwood Festival in Ohio July 12- 17!  (See https://www.starwoodfestival.com for details and tickets) So that means REHEARSALS!  The three of them will be getting together at Darwin's home, Winter Song Farm, in Kentucky to rehearse for the show the week before.  Well now it just seems silly not to let everybody in on the fun. Afterall, before there was Velvet Hammer the three of them were a trio and this show will harken back to the days right before Velvet Hammer hit the big time. Also be sure to stick around for the meet and greet after the show!  A rare opportunity to talk to each of them while they are together. 
This show will be pre-recorded at the farm and broadcast from a different location due to issues with the farm satellite wifi.  Because of the flexibility of pre-recording there will be lots of surprises including getting to spend some time at the ranch and meeting the horses and maybe a song or two in the forest!  Ginger Lynda and Darwin have not spent time like this together in many years! This is a very rare opportunity and a must see <3