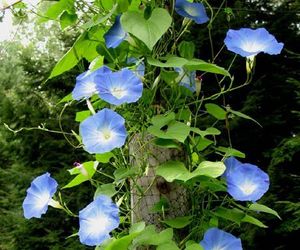 I just came back in the house after planting some morning glories along my back fence.  And I had to share this with you. 
This is kind of a big deal for me for a few reasons.  This wasn't just planting flowers given to me by my dearest friend, soul mate and musical cohort Lynda Millard.  This was done with intention.  You see, Andrea and I are about to buy the house we are currently renting. 
As I planted the little baby plants I said; "Let these roots be like mine and flourish in this place.   Yet I will to fly free like the bird & return again when I need rest ~ never bound but only comforted and nourished by this place."  And as I stood up, I kid you not, one of nesting red shoulder hawks in our neighborhood  flew above my head on the way to their nest.  It was an affirmation that I still have my wings.  *Thank you spirit* 
Plans for this have been in the works for over a year.   And I can tell you, that it has been a self revealing, scary and at the same time life affirming process.  I gave up all my things 10 years ago so I could live a life free and on the road making music.  I still want to do that!   This step brings up the fear that having more responsibility will keep me from being free to travel and play and share my song live with you!  But I do not need to be homeless to be free. I can do this! 
Our land lord informed us 6 months into our 2 year lease that she planned on selling this house we now rent from her and wanted to give us the option to buy it.  And let me tell you WE LOVE THIS HOUSE. We wanted it.  We manifested this house.  It has everything we wanted in it and dreamed about having while we were in our apartment for all those years.  Most especially it has a small building in the back yard that I can convert to a studio. Perfect. 
We set about getting ready to approach a bank.  I stopped spending money on anything except paying off debt. We went to a first time home owner seminar and had a counseling session with credit counselors of Arkansas.  We prepped and prepped... and then finally went white knuckled to a mortgage company.  They approved us for a loan... BUT we could not show enough income.  We needed a co-signer. 
Well we got one.  Now we need to make the offer.  And we are getting ready to do that.  We had a meeting with the co-signer and our realtor the other day.  We had the place inspected and now I am making a jillion phone calls to get estimates.  I am adult-ing all over the place. 
Hold positive home buying energy for us because over the next couple of weeks we will see if our vision of owning this house manifests.  I am a bit nervous about it. ;) 
MEANWHILE: Plans are going forward for the RUNE VIDEO!! I have released the 5th song of my Sacred Flow Album "RUNE" to my patrons.  Click the link to join for as little as $1 and have access to all the exclusive patron content.   I will not release it to the public until the video is finished!
In the midst of all this that is going on,  as well as mama & kid care duties and helping to produce Lynda Millard's new album I have not had time to do any filming on the Rune video. 
But that doesn't mean that I haven't been planning The Rune Video along with the stellar talent of Sj Tucker who has signed on to help !! SO EXCITED ABOUT THIS!!  We had a conference call just yesterday with Lynda, my partner Andrea,  Sooj and myself to discuss costumes/set designs for the Norns.  It's their voices playing the part of the norns on the recording of Rune.  Can't wait til you hear !  I hope to start testing backgrounds and doing my own scenes next week. My goal would then be to finish filming with everyone by memorial day. 
Thanks for checking in with me! 
Infinite love 
ginger